Chartering made easy
The Charter Permit ('Charterschein') is designed for skippers who do not possess an official skipper's licence for pleasure craft ('Sportbootführerschein') but who want to charter and operate a boat powered by an engine with more than 15 hp.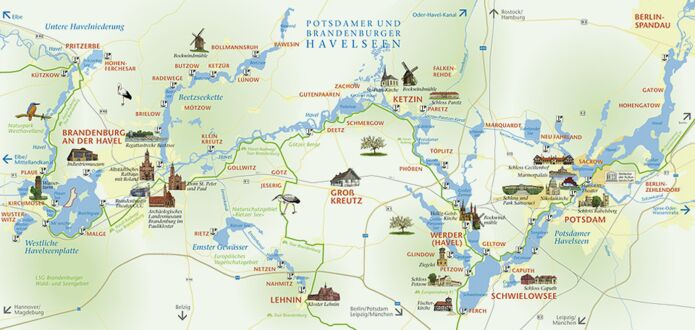 Why do I need a Charter Permit?
The Charter Permit is valid for motor-powered pleasure crafts with a power exceeding 11.03 kW (15 hp) within specified sections and areas of the Brandenburg waterways.
Where is it valid?
The Charter Permit is valid on the Potsdam Havel River, the chain of Beetzsee Lakes, the Brandenburg Havel River, Breitlingsee Lake and the Untere Havel-Wasserstraße (UHW) waterway from Plauer See Lake to Pritzerbe and Havelberg.
Requirements
In order to obtain the Charter Permit, you need to attend a theory class and receive practical training from a charter company. These types of boating courses are subject to cost. After successful completion, you obtain a Charter Permit that is valid for the boat, on which you have been trained and for the duration of your holidays. The permit expires after the charter expedition.