Hear the call of nature – by boat along the Havel River
Beavers gnaw contentedly on trees and sea eagles circle overhead; the Havel River between Potsdam and the Hanseatic city of Havelberg is an excellent point of departure for boat trips through a water-sport region full of fantastic natural resources.

Nature as far as the eye can see
The water-sport region of the Potsdam and Brandenburg Havel Lakes and the neighbouring area Flusslandschaft Untere Havelniederung are the habitat of a great number of protected plants and animals. European otters and kingfishers can be observed easily from the boot, and thousands of geese and cranes flock to the bird sanctuaries for a short respite. The 'Naturpark Westhavelland' nature reserve also provides refuge for very rare plants such as the Cnidion dubii and the everlasting sandflower.
On 'shore leave' you can discover nature from a different perspective. Visit one of the numerous observation towers, nature trails or exhibitions on nature along the river. We will even recommend the most convenient mooring for each one of the locations!
Vantage points
Do you fancy a change of perspective? So why don't you climb one of the many observation towers along the river and enjoy the wonderful views of the Havelland countryside?
Exhibitions involving nature
So what are all the 'creepy crawly' things in the forest and on the fields and what plants are flourishing on the meadow? Exhibitions on nature give an insight into the diversity of the natural wildlife in the Havel region.
Nature trails/bird observation towers
Please remember to bring your binoculars! If you fancy more information on what you're seeing, there are illustrated charts right on the trails and observation towers.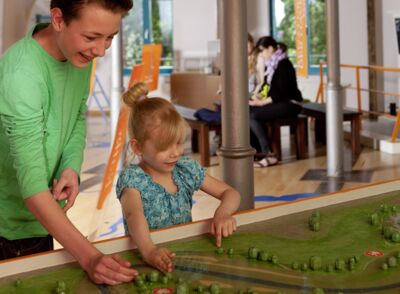 Renaturalization
Europe's biggest river renaturalization project will bring the Havel River between Pritzerbe and the point where the Havel flows into the Elbe River even closer to its natural state. Old river branches will be reconnected, embankments will be removed, riverside and riparian forests will be established and fish ladders will be constructed. The Havel River will become an even more lively and attractive place for nature-loving visitors to come by boat.
Behaviour in nature reserves
Please help us protect our unspoiled countryside! There are nature reserves along the Havel River where a number of rules apply to boating visitors, as well. Please go onto shore only in designated areas, keep to the paths and be considerate of animals and plants.
THANK YOU!
SINCERELY,
NATURE AND ITS INHABITANTS