Family holidays on the Havel River
Rent a houseboat for exciting family holidays. You can choose from a wide range of options including a simple adventure raft or even a fully furnished 'floating' holiday house with fireplace and/or a sauna. Most boats can be operated without a skipper's licence or only require a brief training session to obtain a Charter Permit ('Charterschein').

Potsdam–Havelberg
In recent years houseboats and rafts have become more popular on the Havel River between Potsdam and Havelberg. The perfect family holiday – a holiday house on water. There is a lot to be discovered between shoving off and arrival. Look here for a selection of highlights along your route.
Potsdam
Schwielowsee
Werder (Havel)
Ketzin/Havel
Kloster Lehnin
Brandenburg an der Havel
Pritzerbe
Bahnitz
Milow
Premnitz
Rathenow
Hohennauen
Strodehne
Havelberg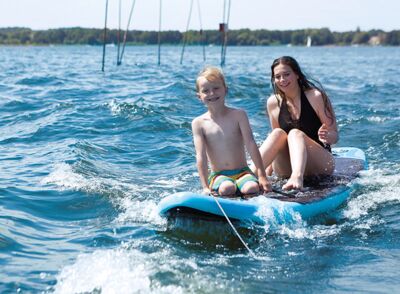 Lively town centres
Historic town centres with a medieval spirit, splendid castles and gardens on the banks of the Havel River, cathedrals and cloisters creating an impressive skyline.
Waterside cafés and restaurants
Numerous restaurants tempt visitors to enjoy meals with a waterside view and can be reached directly by boat.
Activities on the water and at the waterside
You are closest to the water when canoeing, surfing, water skiing or standup paddle boarding (SUP). Check our » Wasserwanderkarte (water touring map) for canoe/kayak, SUP and surfing outfitters.
'Naturpark Westhavelland' nature reserve
It is not uncommon to spot beavers, European otters or sea eagles when floating past the pristine nature of the Havelland region.
Spectacular night sky
he particularly dark nights in the Westhavelland region offer glorious views of the Milky Way. Due to this feature the region was declared to be Germany's first dark-sky park.
Swimming in the Havel River
here are flat, sandy beaches for bathing all along the Havel River and the many lakes, with secluded places to drop anchor in pristine nature or attractive swimming areas near towns. However, please bear in mind that you are not allowed to enter swimming areas by boat.
Fishing made easy
For those who love catching their own meals, there are numerous promising fishing grounds along the lakes, rivers and former clay pits. » Click here for more information on fishing.