Canoeing on the Havel River
The current along the Havel River is slow enough that it's even possible to canoe upstream. The width of the various bodies of water, the variation between river and lake sections and the well connected waterways provide excellent conditions for canoeing enthusiasts in the entire region.

Canoe areas
The Potsdam and Brandenburg Havel Lakes are ideal for canoeing due to their calm waterways and a host of wonderful rivers that branch off from them. The following bodies of water are particularly suitable for canoes:
Wublitz River
Narrow body of water passing through pristine countryside, closed to motorboats
Havel River, Werder–Ketzin
Little traffic, not a shipping route, no big lakes (except Großer Zernsee Lake)
Havel River, Ketzin–Brandenburg an der Havel
Meandering river with many old-growth tributaries
Emster Kanal and its lake district
Very tranquil offshoot leading to Kloster Lehnin, intended for canoes and small pleasure crafts only
Brandenburg an der Havel
Canoe trail passing through the town centre (roundtrip), ideally suited for families
Havel River, Plaue–Pritzerbe
Attractive riverscape along the 'Naturpark Westhavelland' nature reserve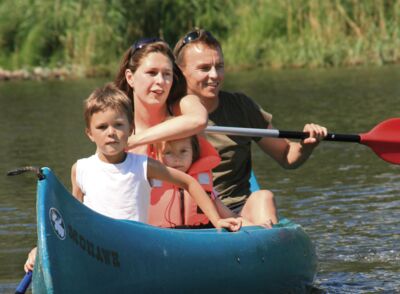 Canoe rentals
Most canoe and boating outfitters offer canoes for three or more people. Some rental companies will also have one-man or two-man kayaks available. Many rental companies also offer one-way tours with pickup service.